Hyundai Tucson Owners Manual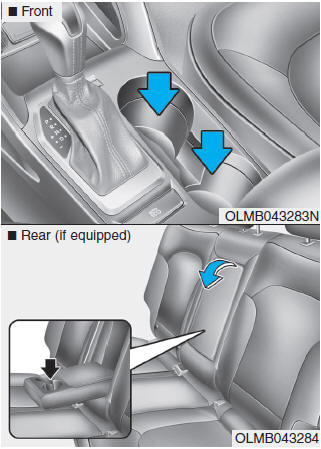 WARNING
Avoid abrupt starting and braking when the cup holder is in use to prevent spilling your drink. If hot liquid spills, you could be burned. Such a burn to the driver could cause loss of vehicle control resulting in an accident.
Only use soft cups in the cup holders. Hard objects can injure you in an accident.
Sunvisor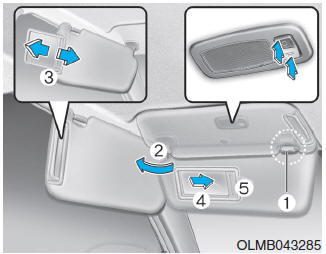 To use a sunvisor, pull it downward. To use a sunvisor for a side window, pull it downward, unsnap it from the bracket (1) and swing it to the side (2).
To use the vanity mirror, pull down the sunvisor and slide the mirror cover (4).
Adjust the sunvisor forward or backward (3) as needed. Use the ticket holder (5) to hold tickets.
✽ NOTICE
Always have the vanity mirror lamp switch in the OFF position when the vanity mirror lamp is not in use.
WARNING
For your safety, do not block your view when using the sunvisor.
CAUTION
Always use the sunvisor extension, after swinging the sunvisor to the side.
Power outlet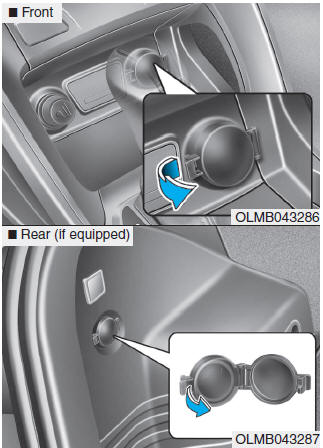 The power outlets are designed to provide power for mobile telephones or other devices designed to operate with vehicle electrical systems. The devices should draw less than 10 amps with the engine running.
WARNING
Avoid electrical shocks. Do not place your fingers or foreign objects (pin, etc.) into a power outlet or touch the power outlet with a wet hand.
CAUTION
To prevent damage to the Power Outlets:
Use the power outlet only when the engine is running and remove the accessory plug after use. Using the accessory plug for prolonged periods of time with the engine off could cause the battery to discharge.
Only use 12V electrical accessories which are less than 10A in electric capacity. Х Adjust the air-conditioner or heater to the lowest operating level when using the power outlet.
Close the cover when not in use.
Some electronic devices can cause electronic interference when plugged into a vehicleТs power outlet. These devices may cause excessive audio static and malfunctions in other electronic systems or devices used in your vehicle.
Push the plug in as far as it will go. If good contact is not made, the plug may overheat or the internal temperature fuse may open.
Digital clock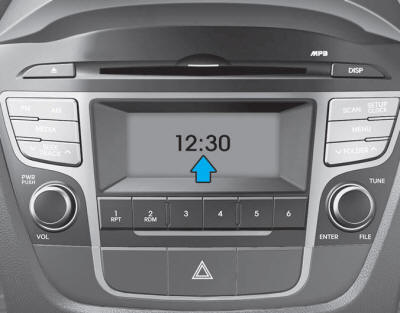 To set the time:
The ignition switch must be in the ACC position or the ON position.
With Audio off
1. Press the CLOCK button until the clock display blinks.
2. Set the clock by using the TUNE knob.
WARNING
Clock setting
Do not adjust the clock while driving, you may lose steering control and cause an accident that results in severe personal injury or death.









© 2019 www.hyundaitucsonmanual.com. All Rights Reserved.