Hyundai Tucson Owners Manual
Hyundai Tucson Owners Manual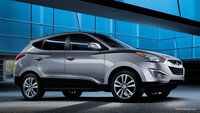 When the Hyundai Tucson debuted for the 2005 model year, it represented Hyundai's first entry in the long-established small crossover SUV segment. The first-generation Tucson became Hyundai's official "entry-level" SUV, and it offered a favorable combination of attributes, including an available V6 engine, a generous list of standard equipment and a lengthy warranty. However, this Tucson looked rather dowdy, had a decidedly low-budget feel to its cabin and never really registered on most consumers' radar as a mainstream option.
That all changed with the second-generation Tucson, which arrived for 2010 with sharp exterior styling and a slick interior to match. There's no V6 option, but the current four-cylinder choices provide respectable performance along with greater fuel efficiency than the previous, considerably less powerful base four. Overall, the current Hyundai Tucson is a considerably more capable and interesting vehicle than before. A used first-generation Tucson isn't a bad idea if you're looking for no-frills transportation, but the second-generation Tucson is certainly more appealing overall.
---








© 2023 www.hyundaitucsonmanual.com. All Rights Reserved.