Hyundai Tucson Owners Manual
Dimensions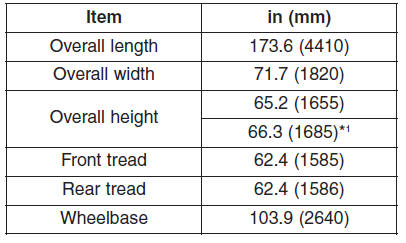 *1 : with roof rack
Bulb wattage
Tires and wheels

✽ NOTICE
It is permissible to add 3psi (21 kPa) to the standard tire pressure specification if colder temperatures are expected soon. Tires typically loose 1psi for every 12°F (-11°C) temperature drop. If extreme temperature variations are expected, re-check your tire pressure as necessary to keep them properly inflated.
CAUTION
When replacing tires, use the same size originally supplied with the vehicle. Using tires of a different size can damage the related parts or make it work irregularly.
Recommended lubricants and capacities
To help achieve proper engine and powertrain performance and durability, use only lubricants of the proper quality.
The correct lubricants also help promote engine efficiency that results in improved fuel economy.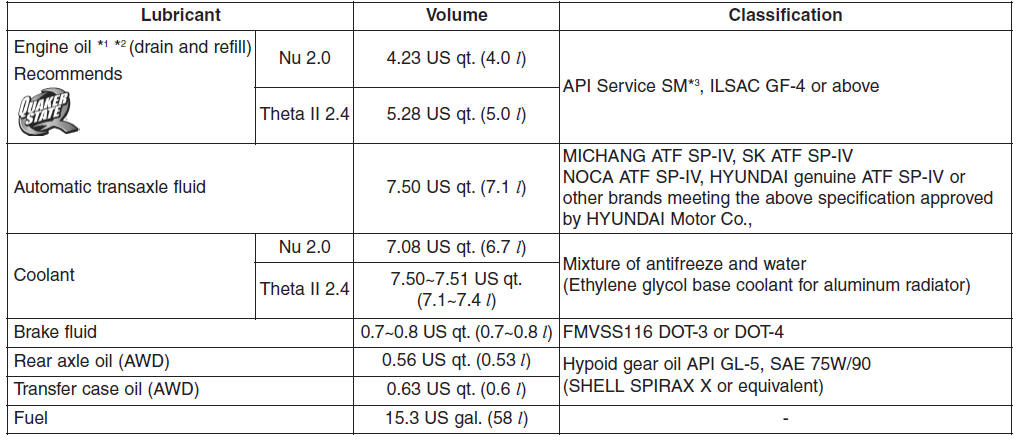 *1 Refer to the recommended SAE viscosity numbers on the next page.
*2 Engine oils labeled Energy Conserving Oil are now available. Along with other additional benefits, they contribute to fuel economy by reducing the amount of fuel necessary to overcome engine friction. Often, these improvements are difficult to measure in everyday driving, but in a year's time, they can offer significant cost and energy savings.
*3 If the API service SM engine oil is not available in your country, you are able to use API service SL.
Recommended SAE viscosity number
CAUTION
Always be sure to clean the area around any filler plug, drain plug, or dipstick before checking or draining any lubricant. This is especially important in dusty or sandy areas and when the vehicle is used on unpaved roads. Cleaning the plug and dipstick areas will prevent dirt and grit from entering the engine and other mechanisms that could be damaged.
Engine oil viscosity (thickness) has an effect on fuel economy and cold weather operating (engine start and engine oil flowability). Lower viscosity engine oils can provide better fuel economy and cold weather performance, however, higher viscosity engine oils are required for satisfactory lubrication in hot weather.
Using oils of any viscosity other than those recommended could result in engine damage. When choosing an oil, consider the range of temperature your vehicle will be operated in before the next oil change. Proceed to select the recommended oil viscosity from the chart.

*1 For better fuel economy, it is recommended to use the engine oil of a viscosity grade SAE 5W-20 (API SM / ILSAC GF-4). However, if the engine oil is not available in your country, select the proper engine oil using the engine oil viscosity chart.
Vehicle identification number (VIN)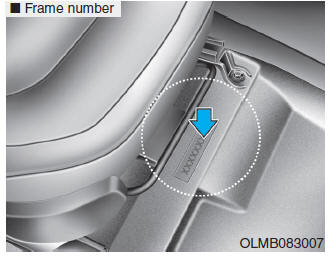 The vehicle identification number (VIN) is the number used in registering your car and in all legal matters pertaining to its ownership, etc.
The number is punched on the floor under the passenger seat. To check the number, open the cover.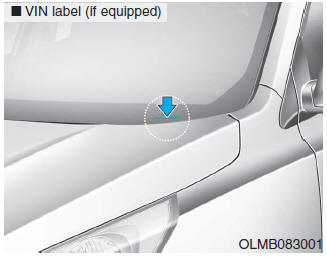 The VIN is also on a plate attached to the top of the dashboard. The number on the plate can easily be seen through the windshield from outside.










© 2023 www.hyundaitucsonmanual.com. All Rights Reserved.