Hyundai Tucson Owners Manual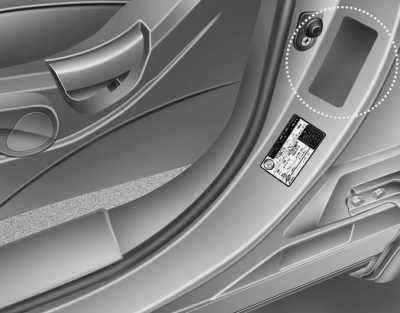 The vehicle certification label attached on the driverТs side center pillar gives the Vehicle Identification Number (VIN).
Tire specification and pressure label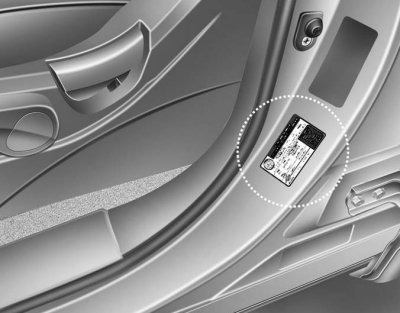 The tires supplied on your new vehicle are chosen to provide the best performance for normal driving. The tire label located on the driver's side center pillar gives the tire pressures recommended for your car.
Engine number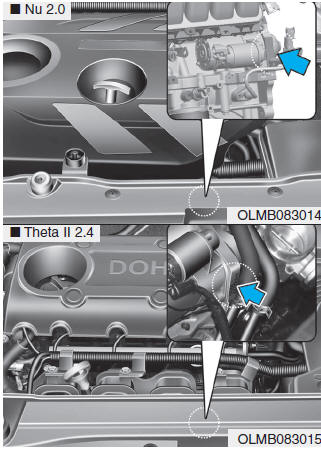 The engine number is stamped on the engine block as shown in the drawing.
Refrigerant label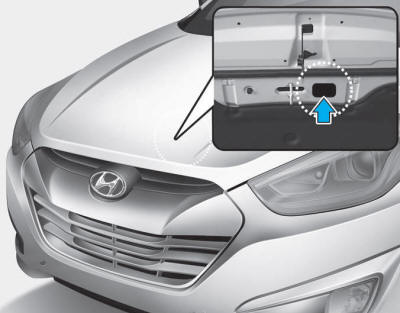 The refrigerant label provides information such as refrigerant type and amount.
The label is located on the underside of the hood.
Consumer information
This consumer information has been prepared in accordance with regulations issued by the National Highway Traffic Safety Administration of the U.S. Department of Transportation.Your HYUNDAI dealer will help answer any questions you may have as you read this information.
HYUNDAI motor vehicles are designed and manufactured to meet or exceed all applicable safety standards.
For your safety, however, we strongly urge you to read and follow all directions in this Owner's Manual, particularly the information under the headings "NOTICE", "CAUTION" and "WARNING".
If, after reading this manual, you have any questions regarding the operation of your vehicle, please contact your nearest HYUNDAI Motor America Regional Office as listed in the following:
Eastern Region:
Connecticut, Delaware, Maine, Massachusetts, New Hampshire, New Jersey, New York, Pennsylvania, Rhode Island, Vermont.
Eastern Region 1122 Cranbury South River Road Jamesburg, NJ 08831 (800) 633-5151
Southern Region:
Florida, Georgia, Maryland, North Carolina, South Carolina, Virginia, West Virginia.
Southern Region 3025 Chastain Meadows Parkway Suite 100 Marietta, GA 30066 (800) 633-5151
South Central Region:
Alabama, Arkansas, Louisiana, Mississippi, New Mexico, Oklahoma, Tennessee, Texas.
South Central Region 1421 South Beltline Road, Suite 400 Coppell, TX 75019 (800) 633-5151
Central Region:
Illinois, Indiana, lowa, Kentucky, Michigan, Minnesota, Nebraska, North Dakota, South Dakota, Ohio, Wisconsin, Kansas, Missouri.
Central Region 1705 Sequoia Drive Aurora, Illinois 60506 (800) 633-5151
Western Region:
Alaska, Hawaii, Arizona, California, Colorado, Idaho, Montana, Nevada, Oregon, Utah, Washington, Wyoming.
Western Region 10550 Talbert Avenue P.O.Box 20850 Fountain Valley, California 92728-0850 (800) 633-5151
Reporting safety defects
If you believe that your vehicle has a defect which could cause a crash or could cause injury or death, you should immediately inform the National Highway Traffic Safety Administration (NHTSA) in addition to notifying HYUNDAI MOTOR AMERICA.
If NHTSA receives similar complaints, it may open an investigation, and if it finds that a safety defect exists in a group of vehicles, it may order a recall and remedy campaign. However, NHTSA cannot become involved in individual problems between you, your dealer, or HYUNDAI MOTOR AMERICA.
To contact NHTSA, you may call the Vehicle Safety Hotline toll-free at 1-888- 327-4236 (TTY: 1-800-424-9153);
go to http://www.safercar.gov; or write to: Administrator, NHTSA 1200 New Jersey Ave, SE, West Building Washington, D.C. 20590.










© 2023 www.hyundaitucsonmanual.com. All Rights Reserved.