Hyundai Tucson Owners Manual
Opening the tailgate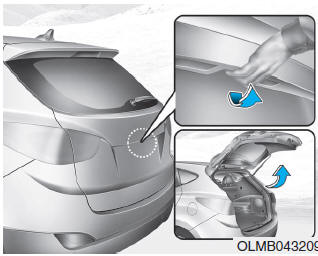 1. Make sure the shift lever is in P (Park, for automatic transaxle) or neutral (for manual transaxle) and set the parking brake.
2. Perform one of the following:
- Press the smart key Tailgate Unlock button for more than one second.
- Press the button on the tailgate itself with the smart key in your possession.
- Use the mechanical key.
3. Lift the tailgate up
Closing the tailgate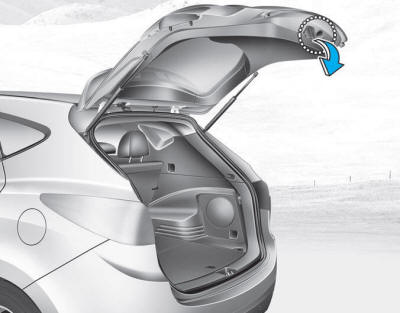 Lower the tailgate and press down until it locks.
WARNING
Always keep the tailgate completely closed while the vehicle is in motion. If it is left open or ajar, poisonous exhaust gases containing carbon monoxide (CO) may enter the vehicle and serious illness or death may result.
WARNING
Make sure there are no people or objects around the tailgate before opening or closing the tailgate.
WARNING
Occupants should never ride in the rear cargo area where no restraints are available. To avoid injury in the event of an accident or sudden stops, occupants should always be properly restrained.
CAUTION
To prevent damage to the tailgate lift cylinders and the attached hardware, always close the tailgate before driving.
✽ NOTICE
In cold and wet climates, door lock and door mechanisms may not work properly due to freezing conditions.
Emergency tailgate safety release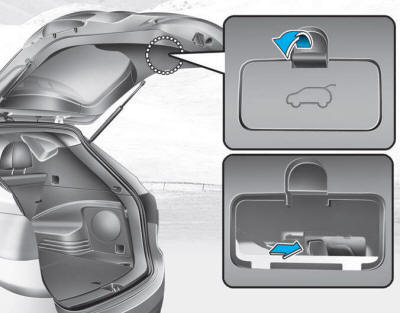 Your vehicle is equipped with an Emergency Tailgate Safety Release lever located inside on the bottom of the tailgate. When someone is inadvertently locked in the luggage compartment, the tailgate can be opened by moving the lever in the direction of the arrow and pushing the tailgate open.
WARNING
You and your passengers must be aware of the location of the Emergency Tailgate Safety Release lever in this vehicle and how to open the tailgate in case you are accidentally locked in the luggage compartment.
NEVER allow anyone to occupy the luggage compartment of the vehicle at any time. If the tailgate is partially or totally latched and the person is unable to get out, serious injury or death could occur due to lack of ventilation, exhaust fumes and rapid heat build-up, or because of exposure to cold weather conditions. The luggage compartment is also a highly dangerous location in the event of a crash because it is not a protected occupant space but is a part of the vehicle's crush zone.
Your vehicle should be kept locked and the key should be kept out of the reach of children. Parents should teach their children about the dangers of playing in the luggage compartment.
Use the release lever for emergencies only.










© 2023 www.hyundaitucsonmanual.com. All Rights Reserved.