Hyundai Tucson Owners Manual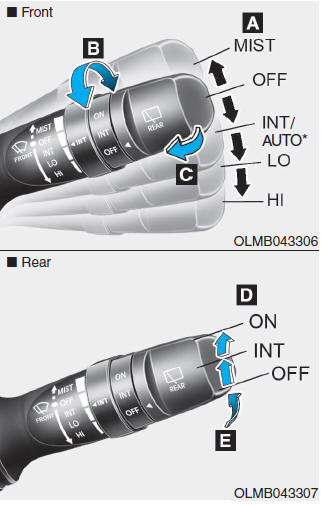 A :Wiper speed control
MIST Ц Single wipe
OFF Ц Off
INT Ц Intermittent wipe
AUTO Ц Auto control wipe (if equipped)
LOЦ Low wiper speed
HI Ц High wiper speed
B : Intermittent control wipe time adjustment
C :Wash with brief wipes
D : Rear wiper/washer control
ON Ц Continuous wipe
INT Ц Intermittent wipe (if equipped)
OFF Ц Off
E :Wash with brief wipes (rear)
Front windshield wipers
Operates as follows when the ignition switch is turned ON.
MIST :
For a single wipe, push the lever upward and release. The wipers will operate continuously if the lever is pushed upward and held in this position.
OFF :
Wiper is not in operation
INT :
Wiper operates intermittently at the same wiping intervals. To vary the speed setting, turn the speed control knob.
AUTO :
The rain sensor located on the upper end of the windshield glass senses the amount of rainfall and controls the wiping cycle for the proper interval. The more it rains, the faster the wiper operates. When the rain stops, the wiper stops.To vary the speed setting, turn the speed control knob (B).
LO :
The wiper runs at a lower speed.
HI :
The wiper runs at a higher speed.
CAUTION
If there is heavy accumulation of snow or ice on the windshield, defrost the windshield for about 10 minutes, or until the snow and/or ice is removed before using the windshield wipers to ensure proper operation.
When you operate the wipers, if your vehicle has a problem in any part of the wiper operation system, the wiper may operate in the LO mode regardless of the wiper switch position. In this case, have your vehicle checked by an authorized HYUNDAI dealer as soon as possible.
When the engine is turned off, the wiper blade sometimes may move slightly to help reduce the deterioration of the windshield wipers.










© 2023 www.hyundaitucsonmanual.com. All Rights Reserved.