Hyundai Tucson Owners Manual
✽ NOTICE
If you install an aftermarket HID headlamp, your vehicle's audio and electronic device may malfunction.
Prevent chemicals such as perfume, cosmetic oil, sun cream, hand cleaner, and air freshener from contacting the interior parts because they may cause damage or discoloration.
Antenna
Roof antenna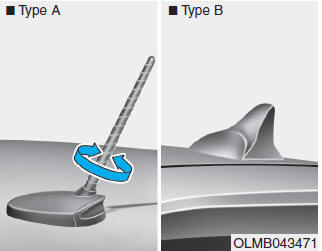 Your vehicle uses a roof antenna to receive both AM and FM broadcast signals. This antenna is removable.
To remove the antenna, turn it counterclockwise. To install the antenna, turn it clockwise.
CAUTION
Before entering a place with a low height clearance or a car wash, remove the antenna by rotating it counterclockwise. If not, the antenna may be damaged.
When reinstalling your antenna, it is important that it is fully tightened and adjusted to the upright position to ensure proper reception. But it could be removed when parking the vehicle or when loading cargo on the roof rack.
When cargo is loaded on the roof rack, do not place the cargo near the antenna pole to ensure proper reception.
Steering wheel audio control (if equipped)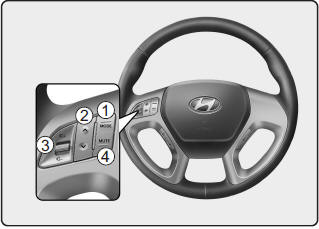 The steering wheel may incorporate audio control buttons. These buttons are installed to promote safe driving.
CAUTION
Do not operate audio remote control buttons simultaneously.
MODE (1)
Press the button to change audio source.
- FM(1~2) ➟ AM ➟ SAT(1~3) ➟ CD ➟ USB AUX(iPod) FM...
SEEK/PRESET (

/

) (2)
The SEEK/PRESET button has different functions based on the system mode.
For the following functions the button should be pressed for 0.8 second or more.
RADIO mode
It will function as the AUTO SEEK select button.
CD/USB/iPod mode
It will function as the FF/REW button.
If the SEEK/PRESET button is pressed for less than 0.8 second, it will work as follows in each mode.
RADIO mode
It will function as the PRESET STATION buttons.
CD/USB/iPod mode
It will function as TRACK UP/DOWN button.
VOLUME (VOL

/

) (3)
Push the lever upward ( ) to increase the volume.
Push the lever downward ( ) to decrease the volume.
MUTE (4)
Press the button to mute the sound
Press the button to turn off the microphone during a telephone call.
Detailed information for audio control buttons are described in the following pages in this section.
Aux, USB and iPod® port (if equipped)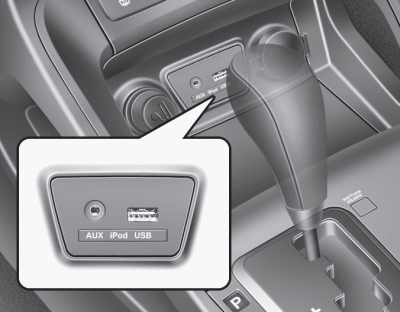 If your vehicle has an aux and/or USB(universal serial bus) port or iPod port, you can use an aux port to connect audio devices and the USB port to plug in a USB device.
Both ports are used together with the accessory iPod cable to connect an iPod.
✽ NOTICE
When using a portable audio device connected to the power outlet, noise may occur during playback. If this happens, use the power source of the portable audio device.










© 2023 www.hyundaitucsonmanual.com. All Rights Reserved.