Hyundai Tucson Owners Manual
Driving assist system
Active ECO system
Active ECO operation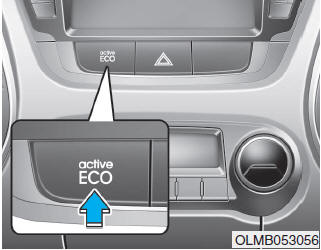 Active ECO helps improve fuel efficiency by controlling the engine and transaxle. Fuel-efficiency is determined by the driver's driving habits and road conditions.
When the Active ECO button is pressed the ECO indicator (green) will illuminate to show that the Active ECO is operating.
When the Active ECO is activated, it does not turn off even though the engine is restarted again. To turn off the system, press the active ECO button again.
If Active ECO is turned off, it will return to normal mode.
When Active ECO is activated :
Engine sound may change.
Vehicle speed may slightly be reduced.
Air conditioner performance may be affected.
✽ NOTICE
Active ECO is designed on the assumption of light to mild throttle driving style to control engine and transaxle in order to optimize fuel economy. A person with an aggressive throttle driving style may find the engine performance in Active ECO on mode to be unsatisfactory, and thus may not realize any fuel economy gain. In such an aggressive driver style case, it would be better to keep Active ECO off for best fuel economy. For best results, it is recommended to compare the performance of both modes to determine which is more effective for your driving style.
Limitation of Active ECO operation
If the following conditions occur while Active ECO is operating, the effectiveness of the Active ECO may be limited even though the indicator is still on.
When coolant temperature is low: The system will be limited until engine temperature becomes normal.
When driving up a hill:
The system will be limited to gain power when driving uphill because engine torque is required.
When using sports mode: The system will be limited according to shift request.
Rear view camera (if equipped)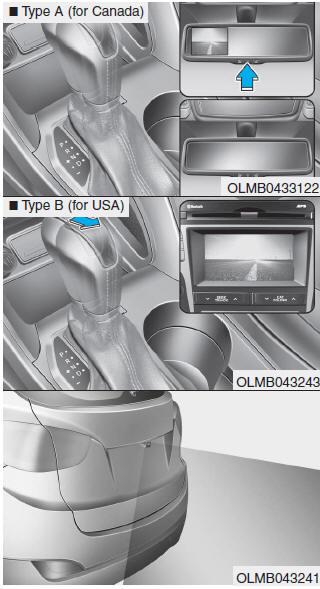 The Rear View Camera will activate when the engine is running and the shift lever is in the R (Reverse) position.
Whenever the vehicle ignition is cycled off and on, the rear view camera will turn on when the shift lever is put into R (Reverse).
■ Type A
The rear view camera can be turned off by pressing the ON/OFF button when the rear view camera is activated.
Press the ON/OFF button once more to turn on the rear view camera when the engine is running and the shift lever is in R (Reverse).
WARNING
ALWAYS look around your vehicle to make sure there are not any objects or obstacles before moving the vehicle in any direction to prevent a collision.
Always pay close attention when the vehicle is driven close to objects, particularly pedestrians, and especially children.
Always keep the camera lens clean. The camera may not work normally if the lens is covered with foreign matter.










© 2023 www.hyundaitucsonmanual.com. All Rights Reserved.